Marble & Travertine Cleaning And Polishing
Hardwood Cleaning And Polishing
Tile/Grout Cleaning And Sealing
Welcome to Dirt2Shine Floor Care!
We are Experts at Tile & Grout, Showers, Marble, Travertine, Limestone, and All Natural Stone Cleaning, Polishing & Sealing. We also specialize in Hardwood Floors Cleaning and Polishing. We have been proudly serving Toronto, Brampton, Mississauga, Vaughan, Oakville, & surrounding areas.
DIRT2SHINE FLOOR CARE
416-878-7230
Get those dull and dirty floors transformed into germs-free, clean and shiny again by DIRT2SHINE FLOOR CARE
We adhere to the industry's highest standards of service practices and received five star reviews on google for our honesty and quality work, therefore we do not hesitate to boast that we have been in the top ranks of the industry.
DIRT2SHINE FLOOR CARE
416-878-7230
We are specialized in all types of floor professional cleaning, polishing, and sealing services. At DIRT2SHINE we provide residential and commercial customers the best service with the help of our latest equipment, finest products, and our years of experience.
Dirt2Shine uses an advanced cleaning and sealing process for your tile and grout, this consists of a special cleaning solution designed to remove stains, dirt, grease, and remove discoloration from your tile and grout, Our highly effective grout cleaning process means that there is no need to remove or replace your grout! After cleaning is complete, a clear penetrating sealer or a color grout sealer may be applied to protect your newly cleaned surface area. 
We use the finest materials and eco-friendly cleaning solutions that are safe for your floors and produce the finest results. We will transform your dirty and stained tile, grout, stone & hardwood floors into bright, spotless, clean, and free of all germs, just the same way as when they were first installed in your home.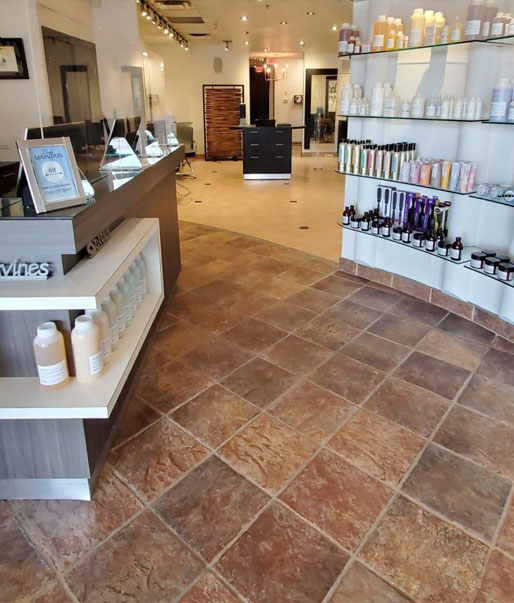 Dirt2Shine can restore your kitchen, hallway, and bathroom ceramic or natural stone tile and grout floors to a like-new appearance with an advanced cleaning process. While servicing your floors a clear or color sealant can also be applied to your grout changing its appearance and giving your floor a completely new look.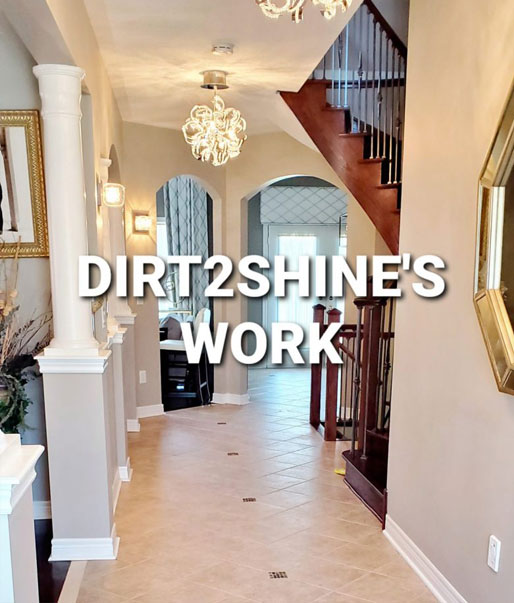 Dirt2Shine will present a like-new appearance for you by removing years of dirt build-up from the tile and grout in the entryway, dining, kitchen, and washroom areas. We use the finest materials and eco-friendly cleaning solutions that are safe for your floors and produce the finest results. Our team can do professional deep floor cleaning and restore the discolored surface of the tile, grout lines, and stone to its natural color in Toronto – GTA, and the Surrounding Area.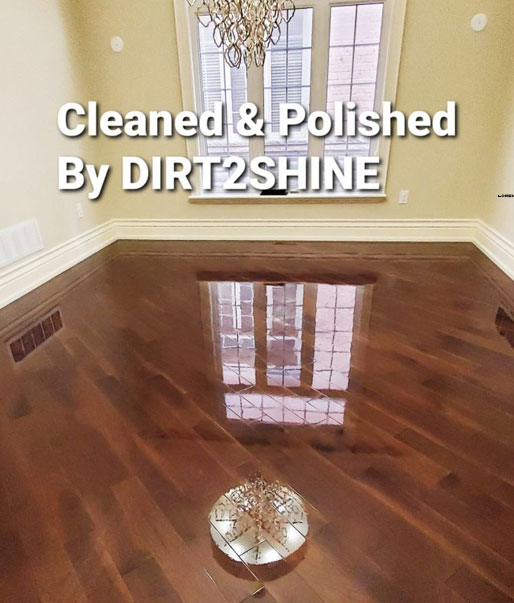 Over time your hardwood floors will start looking dull and faded due to wax and dirt that has formed a shell-like layer on the surface. Our specialized hardwood cleaning machine and solutions will help in removing years of build-up dirt and wax from the hardwood surface and between the line, providing you with better renewed floors. The entire process of cleaning hardwood floors involves an expert's knowledge of, specialized hardwood cleaning machines. Our experts will clean and polish your hardwood floors to look like new again.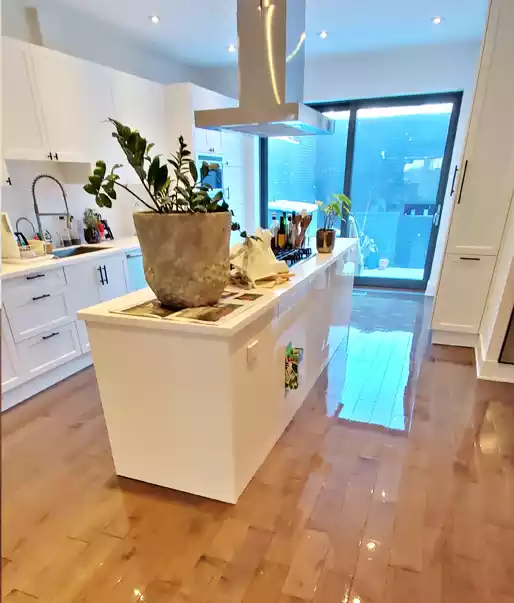 Once we finish cleaning the hardwood floors we apply a high-quality finisher polish, this polish will not only give an amazing shine but it will also create a barrier for the water and dirt from absorbing into the hardwood floors, it will also protect your hardwood floors from shoe damages and prevents scratches.
I was amazed to see the quality of service they give. The team is really professional and well mannered. We called them to do tile grouting and they did it really well with proper technique. Thank you team for giving us your excellent service.
I like Dirt2Shine for all my office and home Tile cleaning requirement. They are not very costly. I booked them for the first time. They clean all our kitchen tiles with chemical and make it very shiny. They impressed me with their great work. Trust me you won't find such a cost-effective service at this price anywhere. I liked their work and love to recommend them to everyone."
If you require any of the services we provide, please don't hesitate to Contact us or complete the Online Quote Request Form below for an obligation free estimate.
Dirt2Shine is your best option to hire for professionally cleaning your floors, we have been proudly providing our services for 15 years in GTA.